Chartering/Brokerage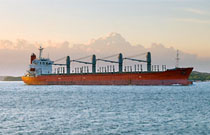 The chartering department is a prominent division of Sadat Marine Co. and is well supported by comprehensive approaches to both governmental and private Egyptian charters and leaders for both import and export trade activities. 
The Chartering policy was established to introduce to local traders to the know how of maritime activities for a better control and understanding of ocean freight. As a result, it enables Sadat Marine have better control of strategic Egyptian commodities and to serve a diverse population of customers, from small, individually owned businesses to large international corporations.
The chartering department is extensively updated with important Egyptian commodities, and contracts of affreightment.
 Sadat Marine provides a variety of vessel sizes to meet and target a range of commodities, varying from small, handy upsized vessels to full panamax/cape sized vessels.   By offering the right sized vessel for a job, the carbon footprint of Sadat Marine can be reduced by saving resources in smaller jobs.
Sadat Group is in a strategic partnership with China Ocean Shipping Company (COSCO) for bulk, container lines, tankers, and general cargo. COSCO Bulk was one of the leading private Egyptian shipping companies in 2008.
In 2008, we achieved the highest fixture target when we exceeded 4 million tons of bulk in dry commodities. This represented almost 70% of coal imports and almost 60% of grain imports to Egypt.
Sadat Marine attained a considerable market share in transporting an extensive and exclusive range of strategic commodities. Those include:
•        bulk iron ore (in cape size)
•        bulk wheat /grains (in panamax  size)
•        bulk coal ,  coke , (in panamax size
•        bulk cement & clinker ( from handy up to h/max sizes)
•        bulk rock phosphates , alumina , fertilizers , ( h/max size)
•        all types of steel productions (up to handy size)
•        heavy project cargo / constructions and general cargoes
If you have tonnages located in Egypt's territories, the Mediterranean, or the Red Sea, Sadat Marine adequately provides the most convenient and finest export contracts available, carefully coordinated to meet the individual needs of each client.
If you have tonnages stationed globally and are interested in routing the vessels to Egypt or neighboring countries, Sadat Marine is pleased to provide the best suitable means for Egyptian import contracts.
Sadat Marine guarantees the finest comprehensive and cost-effective services, reliability, and optimal satisfaction.  Our commitment to keeping environmental impact to a minimum is a priority in all aspects of doing business.