President's message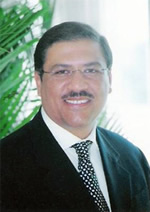 Dear Respected Customers and Business Partners,
On behalf of the board of directors and corporate personnel, I would like to thank you for your continued dedication and interest in Sadat Group.
Sadat Group strives to integrate customer satisfaction, corporate social responsibility, and the flexibility to adjust to the adversity and diversity of today's global market. Our professionals are experts in their designated fields, which facilitates our ability to deliver products and services of the highest quality. We believe that by exceeding your expectations, we maintain our success.
Established with a deep understanding of the interdependency between markets and corporations, Sadat Group continues to thrive in the Egyptian market. Though our customers have an extremely varied spectrum of needs, our diverse and knowledgeable subsidiary groups allow us to treat each client with unique attention, expertise, and care.
Sadat Group expresses its appreciation to all its respected partners and customers, who  work with us to achieve mutual success. We expect to continue cultivating our fruitful relationships, and welcome new collaborations.
We look forward to a productive and enriching cooperation.
Sincerely,
Dr. Effat El Sadat
Chairman

Dr.Sadat is a member of:

The Egyptian-British Chamber of Commerce, in London. (Board member)
The Canada-Egypt Business Council, in Egypt. (Board member)
The British Egyptian Business Association, in Egypt. (Former Board Member, Current Active Member)
Alexandria Chamber of Shipping, in Egypt. (Board Member)
The American Chamber of Commerce, in Egypt. (Active Member)
The World Economic Forum in Egypt. (Active Member)
Alexandria Business Association, in Egypt. (Active Member)
Egyptian –European Council, in Egypt. (Active Member)
The Federation of Egyptian Chambers of Commerce, in Egypt. (Active Member)
The Egyptian International Freight Forwarding Association, in Egypt. (Active Member)